Hardwood Flooring

Services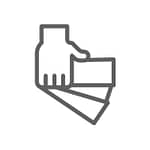 Installation
Sometimes, mold, fire damage, and water damage require new hardwood flooring installation. ProCare's experienced technicians can install your new floors quickly and efficiently. We use leading installation methods to give your home flawless hardwood flooring.
refinishing
ProCare Restoration can refinish your floors after damage has occurred or if you simply want new finish. We use industry-leading methods to sand and refinish your floors. Our trained technicians are experts in refinishing hardwood flooring and will make your floors look perfect once again.
staining
ProCare Restoration provides professional staining services to make your floor look beautiful. We use the best staining methods to guarantee a perfect, even stain. Our stains are durable and long-lasting. You'll love your floor's new stain thanks to ProCare's methods.
repair
Whether your floors were harmed by water, fire, mold, or something else, ProCare Restoration specializes in repairing damaged hardwood floors. Our expert technicians are trained in the latest repair standards; we'll repair your floors to make them look brand new.
 Schedule an appointment
in Chicago and the Chicago suburbs
What you can expect from

ProCare Restoration's
Hardwood Flooring

services?
Experienced installers
Participate in regular training to keep a current certification
Up to date with the latest, best methods for installing flooring
Use industry guidelines to provide the best installation
Understand how to prepare wood boards before installing
Know the best practices for keeping your flooring in great condition
Residential & Commercial
ProCare Restoration can install, replace, and repair hardwood flooring in your homes and commercial buildings. If you have an office space or building that needs hardwood flooring work, ProCare can get the job done properly. We guarantee you'll love how your floors look after ProCare Restoration installation.
Beautiful Results
Because of our experienced technicians, professional products, and high-quality materials, we can guarantee results you'll love. We can take damaged hardwood floors and make them look beautiful again. When we install hardwood floors, we take extreme care to make them look perfect. 
Looking for new

Hardwood Flooring?
While disastrous events leading to damaged hardwood floors are incredibly stressful, choosing new flooring doesn't have to be. We recommend PurezaWood, our hardwood flooring provider. Their engineered hardwood floors are fully customizable to fit your home.
Call PurezaWood (773) 985-1619
What our past customers have to say